July 10 to July 16, 2017 Markham
The newly built PanAm Centre for the 2015 PanAm Games was the location for the 2017 Junior and Senior Canadian Championships.
The two tournaments were played back to back over the 7 days.
First were the Junior Championships from July 10 to July 12. Maggie, Sabrina, Ann and Howard all from the GTTA were on Team Ontario. Coach Horatio was selected as Ontario Women's Team Coach. All the athletes were successful in getting at least one medal at National level.
Sabrina and Ann managed to get the gold medal in the Women's U-18 Team event while Maggie got a bronze medal for her effort in the U-15 Women's Team Event. In the men's Team event, Howard got his gold medal by defeating Team Quebec in the final.
Sabrina got a second gold medal by winning the U-18 Women's Doubles with her partner Joyce Xu of Toronto.
Ann and her doubles partner, Justina Yeung, got the silver medal in the U-18 Women's Doubles.
Howard had his second medal in doubles. By partnering with Alex Bu of Toronto they reached the semi finals and thus got a bronze medal for their efforts.
For full results please follow the link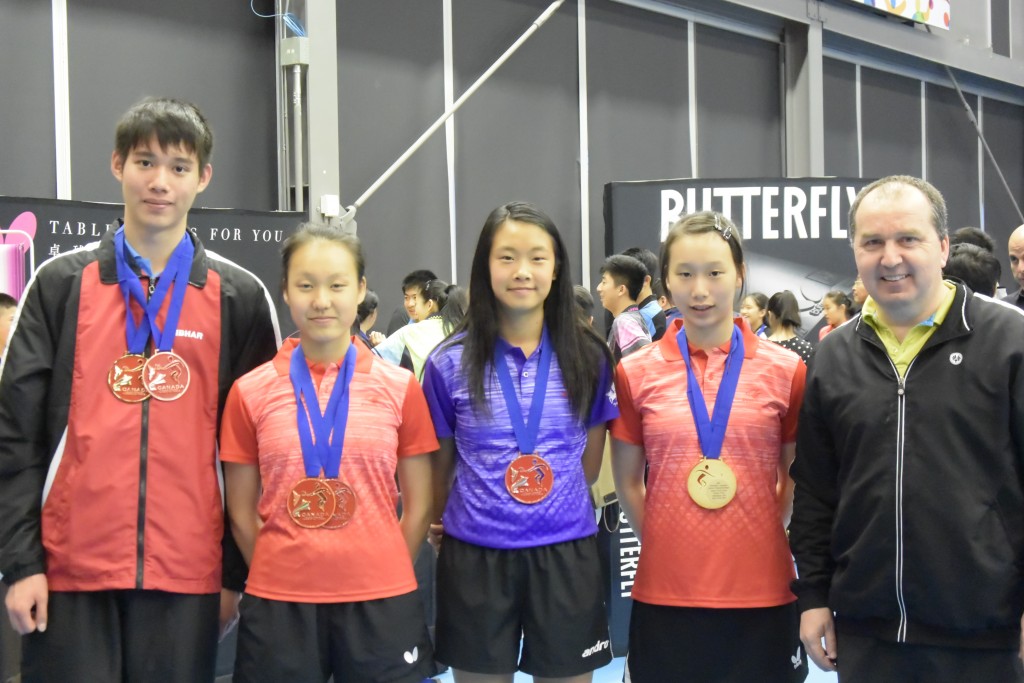 GTTA medalists: Howard Chen, Ann Shiao, Maggie Jin, Sabrina Chen and Horatio
2017 Senior Canadian Championships.
While Sabrina, Ann and Howard stayed to continue with the Senior events, Maggie returned to Ottawa. The three GTTA musketeers were joined by Jean. Coach Horatio stayed as well as being the Head Coach for the Women's Team.
After and extremely exciting final in the Women's Team even in which Sabrina managed to defeat Leisy Medina (the number one seed of the tournament), Team Ontario had to bow to Team Quebec by the score of 2-3 and had to settle for the silver medal.
Howard got himself a bronze medal at the senior level with his team. He also had a great performance in the singles as he reached the quarter finals for the Men's event. Congratulations.
For full results at the 2017 Senior Canadian Championships please follow the link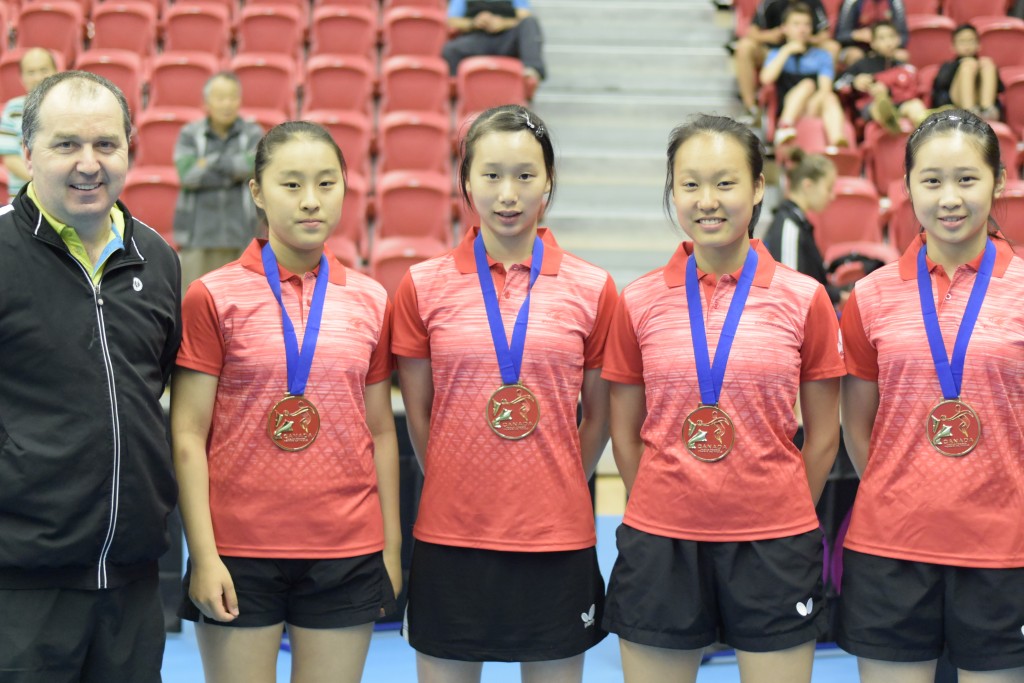 Horatio with the Ontario Team silver medalists (Joyce Xu, Sabrina Chen, Ann Shiao and Justina Yeung)